Dados do Livro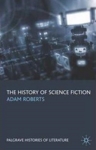 42.33 €
33.86 €
Titulo:
THE HISTORY OF SCIENCE FICTION PALGRAVE HISTORIES OF LITERATURE (PAPERBACK)
ISBN:
Informa��o Indispon�vel
The first comprehensive critical history of SF for thirty years, this book traces the origin and development of science fiction from Ancient Greece, via its rebirth in the seventeenth century, up to the present day. Concentrating on literary SF and (in the later chapters) cinema and TV, it also discusses the myriad forms this genre takes in the contemporary world, including a chapter on graphic novels, SF pop music, visual art and ufology. The author is ideally placed to write it: both an academic literary critic and also an acclaimed creative writer of science fiction, with five novels and many short stories to his credit. Written in lively, accessible prose, this study is specifically designed to bridge the worlds of academic criticism and the SF fandom. The History of Science Fiction argues that, even today, this flourishing cultural idiom is shaped by the forces that determined its rise to prominence in the 1600s: the dialogue between Protestant and Catholic worldviews, the emerging technologies of the industrial age, and the cultural anxieties and excitements of a rapidly changing world. Now available in paperback, it will be of interest to all students, researchers and fans of SF.