Dados do Livro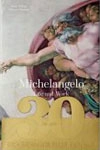 29.99 €
23.99 €
Titulo:
MIGUEL ANGELO VIDA E OBRA
A glorious exploration of Michelangelo's works

"The photography is sharp, the colour true and full of lustre...This will prove to be one of the art books of the year." - The Good Book Guide, London

Before reaching the tender age of thirty, Michelangelo Buonarroti (1475-1564) had already sculpted David and Pièta, two of the most famous sculptures in the entire history of art. Like fellow Florentine Leonardo da Vinci, Michelangelo was a shining star of the Renaissance and a genius of consummate virtuosity. His achievements as a sculptor, painter, draughtsman, and architect are unique—no artist before or after him has ever produced such a vast, multi-faceted, and wide-ranging oeuvre. Only a handful of other painters and sculptors have attained a comparable social status and enjoyed a similar artistic freedom. This is demonstrated not only by the frescoes of the Sistine Chapel but also by Michelangelo's monumental sculptures and his unconventional architectural designs, whose forms went far beyond the accepted vocabulary of his day. Such was his talent that Michelangelo was considered a demigod by his contemporaries and was the subject of two biographies during his lifetime.

The edition explores Michelangelo's life and work in depth and detail. The different parts of the book concentrate on the life of Michelangelo via an extensive and copiously illustrated biographical essay and include gorgeous, full page reproductions and enlarged details that bring readers up close to the works.

This sumptuous tome also takes account, to a previously unseen extent, of Michelangelo's more personal traits and circumstances, such as his solitary nature, his thirst for money and commissions, his miserliness, his immense wealth, and his skill as a property investor. This survey of Michelangelo's life and oeuvre is a basic reference for every art lover.

About the authors:
Christof Thoenes studied art history in Berlin and Pavia, before completing his doctorate in Berlin. Thoenes lives in Rome, where for many years he has worked for the Bibliotheca Hertziana (Max-Planck-Institute), and is honorary professor in Hamburg. He has contributed to numerous publications on Italian art, particularly on architecture and architectural theory of the 15th to 18th centuries.

Frank Zöllner wrote his doctoral theses on artistic and architectural theory (1987) and Leonardo Da Vinci (1996). He has written numerous publications on the art and artistic theory of the Renaissance and on Paul Klee. Since 1996 he has been Professor of Renaissance and Modern Art at Leipzig University. He is also the author of TASCHEN's XL monograph on Leonardo da Vinci.